6 recipes for a healthy breakfast
Breakfast is known to be the most important meal of the day. It can boost metabolism and give you energy throughout the day. Also, the way you begin your morning sets the tone for the rest of your day. This is why there is no better way to start off than by having a nutritious breakfast that will keep you full and ready to take on any challenge. Indeed, nutritionists state that you should have a 25-35% of your caloric intake in the morning in order for your body and brain to work properly.  You can do this by making sure you breakfast contains a balance between proteins, healthy fats, and carbohydrates. This might seem complicated but don't worry because Med in Action has your back!! Here are six healthy breakfast recipes that will for sure keep you awake and give you enough energy to be the healthiest you can be!!
Gluten Free almond flour pancakes
Ingredients:
almond meal/ flour (1cup)
Egg whites (2 egg whites)
Cinnamon, stevia, & vanilla.
Almond milk
Coconut oil
Apples
Honey
How to:
Start by adding the dry ingredients first in a bowl. Add the cup of almond meal, the cinnamon, stevia. You can add some baking powder to make it fluffier.
Add the liquid ingredients to the dry ones. Begin with the two egg whites and then add the milk slowly as needed to make a semi- thick consistency.
 Add the coconut oil to the pan to prevent the pancakes from sticking.
Form circles with the pancakes and turn them once they are ready on one side.
To decorate, cut the apples into small pieces.  Ok them in a pan with coconut oil, stevia, and cinnamon until they soften.
Add the apples to the plate with pancakes and enjoy!
Fruity Oatmeal
Ingredients:
½ cup of Rolled Oats
1 cup plant based milk
Stevia, Cinnamon, and vanilla
⅓ banana
Handful of berries
½ kiwi
How to:
in a pot, mix the rolled oats with the plant based milk
Add cinnamon, vanilla, and stevia
Stir it for a few minutes until it reaches the right consistency.
Cut your fruit into pieces
Plate your oatmeal and add the fruit
Add some almonds or chia seeds if you'd like to add some healthy fats.
Benefits of eating Oatmeal: oats are known to be one of the healthiest grains on earth, they are full of nutrients and fiber. They will keep you full for hours as they are very satiating. They are full in carbs and fiber. Also, they have benefits such as aiding weight loss, lower blood sugar levels and can lower cholesterol.
Green Detox Smoothie
Ingredients:
Celery
Spinach
Plant based milk (1 cup)
½ green apple
Cinnamon & Vanilla
Stevia
How to:
Get your ingredients ready!! Pick up a handful of fresh spinach, chop your apple into small pieces, cut the celery sticks, and measure a cup of milk ( any plant based milk works). You can add the vanilla, cinnamon, and Stevia to your taste to make the taste sweeter. Put all of your ingredients into the blender and add some ice for freshnes. This is a super quick and nutritious way to start your day.
There are so many benefits to this quick smoothie. Not only is it lodead in mineral and nutrients, but the celery will boost your digestion and reduce bloating. Also, by starting your monday by having this drink you'll be provided with vitamins such as vitamin K, Vitamin A, as well as Potassium.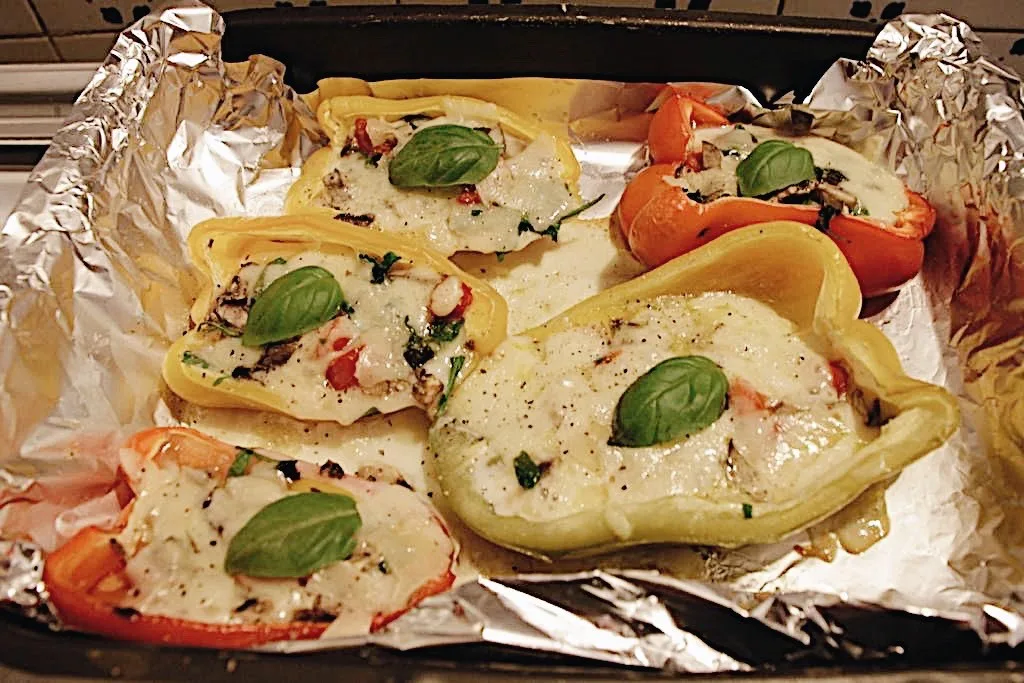 Breakfast-style Stuffed Peppers
Ingredients:
Bell peppers
Spinach
Cherry Tomatoes
Mushrooms
Basil
Eggs
Cheese (I used mozzarella and parmesan)
Cooking Oil
Salt and pepper (to taste)
How to:
Preheat oven to 190 degrees C/375 degrees F.
Half, rinse, and clean out the bell peppers. Place the halves skin-side down in an oiled baking sheet, leaving a hollow space for stuffing ingredients later. Roast the peppers in the oven for 20 minutes.
While the peppers are roasting, prepare your stuffing ingredients. Roughly chop the mushrooms, spinach, and tomatoes as you desire. Also feel free to add in or substitute these for some of your favorites veggies!
When the peppers have roasted for 20 minutes, take them out of the oven and begin to stuff them. Crack one egg into each pepper half. Add in your chopped vegetables and salt and pepper as desired. (Optional: You can also add a splash of balsamic vinegar in each pepper half for a bit extra flavor). Top with cheese of your choice and bake for another 15 minutes at 190 degrees C/375 degrees F.
After 15 minutes, remove the peppers from the oven, allow them to cool, garnish with fresh basil, and serve! (Or, store them in the refrigerator in a sealed container. Reheat when you're ready to enjoy!)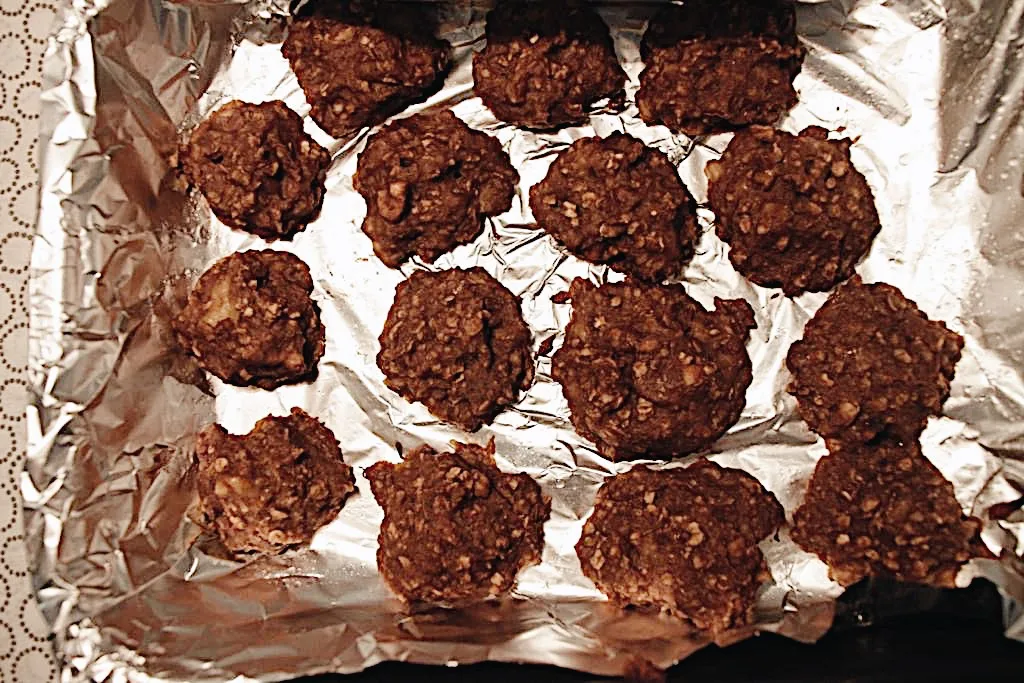 Banana Peanut Butter Walnut Protein Bites
Ingredients:
3-4 very ripe bananas
2 ½ cups rolled oats
2 tbsp honey (or agave)
½ cup peanut butter (or any nut butter)
½ cup walnuts
Cinnamon, to taste
Pinch of salt
How to:
Preheat oven to 200 degrees C/400 degrees F.
(Optional: Crush walnuts, spread flat on baking sheet, and lightly coat with a pinch of cane sugar and cinnamon. Roast for 3-4 minutes, or until golden brown. Then, stir into the mix. If you don't want to roast the walnuts first, just crush them and stir them into the mix).
Peel and mash the bananas. Combine the mashed bananas with the rolled oats, honey, peanut butter, walnuts, cinnamon, and salt. Stir until evenly mixed.
Coat baking sheet with a light layer of coconut oil, just enough so the mixture does not stick while baking. With either your hands or a spoon, lightly drop the mixture into bite-size circles on the baking sheet. Bake for 12-15 minutes.
Let cool, remove from baking sheet with a spatula, and enjoy!

Blueberry-Lemon Breakfast Squares
Ingredients:
Crust:
2 cups almond flour
1 ½ cups rolled oats
3 Tbsp coconut milk
3 Tbsp coconut oil
4 Tbsp honey
Pinch of vanilla
Zest of one lemon
Pinch of salt
Cinnamon, to taste
Filling
300 g blueberries
2 lemons (juice and zest)
½ cup water
3 Tbsp honey
¼ cup tapioca flour or rice flour
Pinch of salt
How to:
Preheat oven to 200 degrees C/400 degrees F.
In a large bowl, combine the almond flour, rolled oats, coconut milk, oil, honey, vanilla, lemon zest, salt, and cinnamon. Mix until even. The consistency should be rather thick, and allow you to spread the mix flat across an oiled baking sheet. Bake the mix as so for 10 minutes.
While this is baking, in a separate pot on the stovetop over medium-high heat, combine blueberries, water, lemon juice, lemon zest, honey, tapioca flour, and salt. Keep on medium-high heat for about 10 minutes, or until blueberries are soft.
Remove crust from oven, pour blueberry-lemon filling over the crust in the baking sheet, and bake for 10 more minutes.
Remove, let cool in the refrigerator for at least two hours, cut into squares, and enjoy!
[su_divider top="no" divider_color="#f97575″ size="1″]
Ask for an advice from an expert. Insert your data, you will be contacted shortly!
[wpforms id="14577″ title="false" description="false"]