The Guide for Expats and Travelers
Living, studying, working & travelling abroad is wonderful! But being sick abroad, in a foreign country where you may not speak the language or be familiar with the medical system can be stressful, daunting if you will. So, in efforts to relieve your fears of the unknown we will equip you with the information you need to navigate the Italian health care system.
First off, there are two types of healthcare, Public (NHS ~ National healthcare system) and Private. The major difference between the two, that you need to know for safety: Private Hospitals are not meant for medical emergencies. For example ~ major accidents or trauma, massive bleeding, any life threatening injury or medical situation that requires immediate care within minutes should be attended to by the public healthcare system. You need to get to the emergency room in the public healthcare system, so don't wait a single second, call for medical help immediately!
Call 112 – Emergency Medical Care – Ambulance
You can say ~ I do not speak Italian, Please, the situation is bad and I need an ambulance immediately
Non parlo italiano, Per favore  il mio amico/a sta male ho bisogno di un'ambulanza immediatamente
They will ask you describe the situation and most importantly, they will ask for your exact address. If you are away from home always have your address written down and with you, it will get you home if your out walking and lose your way, but more importantly this handy little paper may  save your life on day.
In few minutes an ambulance  will arrive and provide you care, assessing if you need to go to the closest emergency room or if the care they will provide you will suffice.
For Emergency medical situations the best place to be is the the public hospital. You may find it busy, noisy, possibly unfriendly, your providers are not guaranteed to speak English well, or at all, but trust me, its the safest place to be in a real medical emergency!  Italian public hospitals are well known for the quality of healthcare, ranking second in the world according to the study The Worlds Health Systems by WHO .
Thankfully, not all medical situations are emergencies. Hopefully you will never find yourself in facing a true emergency abroad, or anywhere in your lifetime!  It is much more likely to require care from an English Speaking Doctor for one of the following:
Bronchitis

Cold/Flu

Ear Infection

Gastroenteritis (Vomiting &/or Diarrea)

Fever

Seasonal Allergies

Sore Throat

Pink Eye (Conjunctivitis)

Pneumonia

Prescription/ Refill

Skin Rash/ Irritation

Sinus infection

Strep Throat

Tonsillitis

Twisted Ankle/ Musculoskeletal Issue

Urinary Tract Infection (UTI)
If you visit the emergency room for any of the above non-urgent issues you will be placed last on the priority list and can wait 4h-7h+++ if not longer, as the doctors will be treating all of the true emergencies first, as they come through the door, regardless of arrival time.
If you are not enrolled in the Public Healthcare system in Italy and require non urgent care the private health care system will be the fastest and most convenient way to receive care.
If you require a General Practitioner (GP)/ Family Doctor, Pediatrician, Gynecologist, Ears, Nose & Throat (ENT), Dentist, a specialist of any type, blood work, prescription refill or hospitalization ( non-emergent) you can contact MedinAction. This is by far one of the fastest and easiest ways to book an appointment with an English Speaking Doctor in Italy. The Doctor can come to your home, hotel, office or University Campus 24/7.
If you are studying abroad and require an English Speaking doctor you can contact your University's health department/ well being office/ student services, they can recommend to you a doctor or you can contact MedinAction.
If you require a English speaking Specialist appointment  Medinaction has many different types of practitioners and clinics  in their trusted network of care across italy.
– Allergy Specialist
– Blood Work
– Breast Health
– Cardiology
– Chiropractic
– Cosmetic Surgery
– Dermatology and Venereology
– Endocrinology
– Family Practice
– Gastroenterology
– General Medicine
– General Surgery
– Gynaecology
– Hospitalization
– Internal Medicine
– Laboratory Services
– Men's Health- Lifestyle prevention and Cancer Screening
– Medical Clearance for Work Certification
– MRI 
– Nutritionists
– Obstetrics
– Ophthalmology
– Orthopaedics
– Osteopathy
– Otolaryngology
– Pediatric Medicine and Vaccination
– Podiatry
– Prenatal Care
– Psychiatry
– Psychology
– Speech Therapy
– Sports Medicine
– Surgery (Major & Minor Surgery various Specialties)
– Travel Medicine and Vaccination
– Ultrasound Imaging
– Urine Test
– Urology
– Vascular Specialists
– Women's Health- Lifestyle prevention and Cancer Screening 
– X-ray
If you are a traveller you can also look on your embassy website for a list of recommendations of English speaking doctors in your area.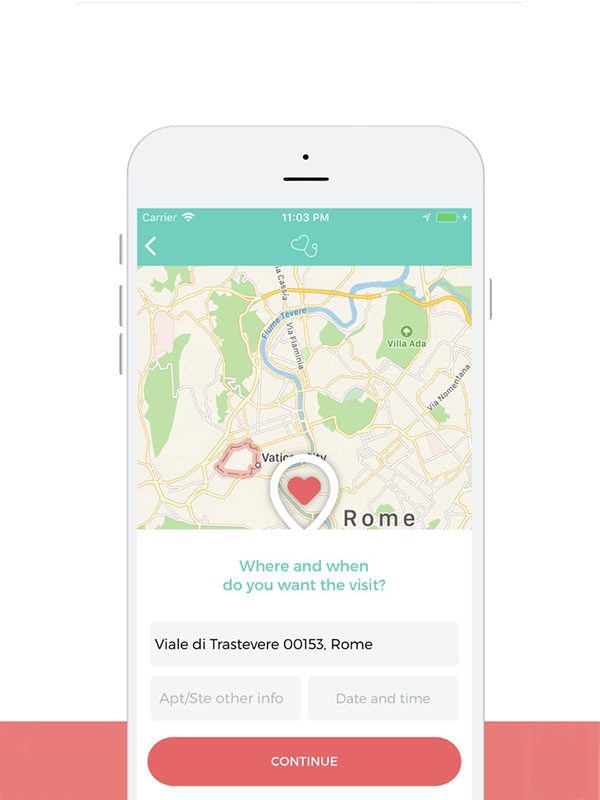 You can chat for free on our website, discuss your symptoms and decide if you require an appointment, what type of appointment or just some free advice!
~ Online Chat @ www.medinaction.com
~ Call/ Whatsapp or Text Message  + 39 375 5724 686
~ MedinAction iOS app
Require More Information?
HOW DOES THE PUBLIC ITALIAN EMERGENCY ROOM WORK?
DHOW TO ENROLL IN THE ITALIAN PUBLIC HEALTHCARE SYSTEM: TESSERA SANITARIA
WHAT TO DO WHEN YOU'RE SICK IN ITALY
List of English Speaking Doctors and Medical Facilities in the Rome Consular District